THE SATURDAYS: A PRIMER
Written for new fans/people wanting to know more since the release of Living for the Weekend!
Under the cut you'll find member bios, music videos, covers, and acoustic performances.
The Members
The Saturdays are a UK-based girl group, operating out of London. They consist of Una, Rochelle, Vanessa, Frankie, and Mollie.
Una is the oldest member at 32, and she's from Tipperary, Ireland. She once represented Ireland as a backup singer in Eurovision, so basically she's just uber cool. She was a singer/songwriter playing gigs around Ireland until 2007, when she moved to London and landed an audition for The Sats - and the rest is history! She's really sensitive and sweet, and the kind of person who hates when people are mean to each other. She has a really sharp tongue though, and she's super funny.
Rochelle is one of the youngest in the group at 24, born and raised in Essex. She started her career in music young, as part of S Club Juniors (with Frankie)! She also did a stint as a child presenter doing interviews at the BBC, and she's kind of a natural star. More recently, during The Sats hiatuses she's been a guest/team captain on the panel show Sweat the Small Stuff for two seasons. She's incredibly honest, and also loves to micro-manage - kind of the leader of the group if you will.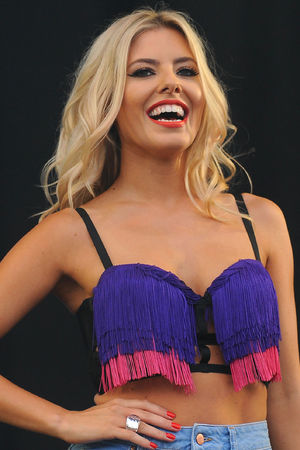 Mollie, 26, is from Richmond. She was in a couple girl groups before The Sats, but nothing really took off. She's bubbly and you can always tell what she's thinking, she doesn't hide her emotions well - I love her dearly. She used to worry a lot about everything, but in the past couple years she's been a bit more relaxed. She's usually the one doing model stints on the side, as well as commercials and brand marketing.
Frankie, 25, was in S Club Juniors with Rochelle (they've known each other since Frankie was 9). They were both around when S Club Juniors became S Club 8, which was active until 2005. Two years later, she joined The Sats. She's a self-described perfectionist, and doesn't take anyone's BS. She's been struggling with depression and panic attacks since she was 15, and she's passionate and outspoken about mental health stigma.
Vanessa (from Somerset), the baby of the group, is 24 and generally thought of as "the lead singer" (though that's not necessarily true). Rochelle has described her as the Christina Aguilera of the group, and her voice is fantastic. She loves themed parties, the theatre, and pulling pranks with Frankie -they're ridiculous.
Singles
Mainly focused on pop/dance songs, The Saturdays have released five albums and 16 singles - all doing well in the British charts. Here are some of my favs:
They excel at acoustic performances as well:
Their covers are also fabulous:
Albums
chasing lights (2008)
word shaker (2009)
headlines (2010)
on your radar (2011)
living for the weekend (2013)
Chasing the Saturdays & Sweat the Small Stuff
Chasing the Saturdays was a one-season reality show on E!Network, based on the band as they tried to make it in the US. It got mixed reviews, but you can watch the whole thing online to see for yourself! (message me for links if you want)
Rochelle, Frankie, Mollie, Una, and Vanessa have all been on StSS, and Rochelle is a regular and team captain. It's one of the best ways to get a sense of their personalities, and you can find all the episodes here!
Blogs to Follow
If this has convinced you to check them out further, one of the best way to do that is follow people who love them! Some of the Sats-only blogs I like:
You can also check out my tag here!
Conclusion
They're a fantastic band, their friendship is amazing (and there's plenty of shipping material), they've been doing this for years and they're always on point. The last few years have seen a lot of pregnancies and marriages and side projects and performances with 8-month-along members, but through it all they just keep coming back to each other because they just love what they do so much :)